$600 Gaming Laptop
The $600 gaming laptop is not other than Acer Aspire 5. Surprising facts about this laptop is, Acer Aspire 5 is not marketed as a gaming laptop. But in case of triple A gaming capability, it performs awesome.
Only available at $600, it has NVIDIA Geforce MX 150. This is one of the best graphics card available at this price range in laptops. You can take this graphics cards as mobile version of gt1030.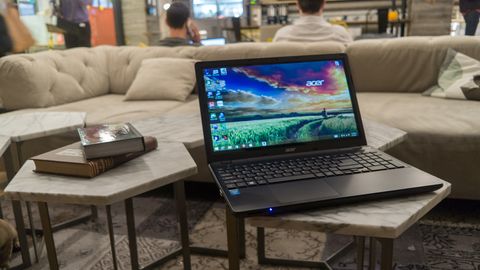 Mostly built with plastic, it offers a better built quality. Moreover, keyboard deck is built of aluminium. It may seem weak but it can take normal press of your hand. It has a nice design. Also, you can pull screen up with one hand.
In case of gaming under budget, it can be considered as light and thin. It weighs about 2.2 kg and has 38.1 cm * 26.3 cm display. It's thickness can be measured in mm which is  about 21.6 mm.
Talking about Ports, it has standard arrangement of USB 3. But the standard USB C port doesn't seems to support Thunderbolt 3. A Ethernet port is also available.
You can easily access memory and disk drive. But if you want to change more specs, then you have to open the entire bottom panel.
A 48 Whr battery is used, which seems a bit convincing with this laptop. It can provide you about 5 Hrs of Battery Life after full charge. The fact about battery life is, this laptop runs lower spec processor and similar other components which result in lower power consumption.
Screen is good but bot amazing. Speakers is located below and sound quality is not much good as we can expect in  other 15 inch laptops out there.
Pricing starts from $499 and you can increase price along with specs if you wish.
If you want to buy this budget gaming laptop as your gaming companion, click the link below and head towards amazon site. And buy the laptop and start gaming.
Thank You for Visiting Us.
Visit Again for daily updates and more tech related information.
-ThecosmoTech